AJP

ISSN : 0971 – 3093




Vol 30, No 3, March, 2021
Asian
Journal of Physics
---
Volume 30, No 3, March, 2021
---
A Special Issue Dedicated to
Prof V B Kartha, FNA
Guest Edited By : V V Tuchin and Santosh Chidangil
Anita Publications
FF-43, 1st Floor, Mangal Bazar, Laxmi Nagar, Delhi-110 092, India
---
CONTENTS 
Guest Editorial
About the Guest Editor
About Prof V B Kartha
Raman spectroscopy in the bio-medical field: Practical guidelines from calibration to data processing for an unbiased interpretation of biospectroscopic information
V Untereiner, O Piot, F Alsamad, N Mainreck, C Gobinet, G D Sockalingum
Recent progress in tissue enhanced spectroscopy for cancer detection
Valery V Tuchin and Luís M Oliveira
DFT Study on tautomerism of cytosine and its 5-haloderivatives: A Review*
M Alcolea Palafox, W Kiefer, Kaushal Rani, B Lal, J K Vats, S P Singh and V K Rastogi
Investigation of metabolism in cancer specimens using Fluorescence Lifetime Imaging Microscopy
Shagufta Rehman Alam, Horst Wallrabe and Ammasi Periasamy
Multi-modal Tissue Sensing in the Detection of Malignant Tumors-A Mini Review
B S Suresh Anand, Jonath Sujan, and Narayanan Subhash
Fiberoptic Raman Theranostics in Cancer Management: Challenges and Perspectives
C Murali Krishna
Recent Advances in Multimodal Optical Coherence Tomography for Tissue Imaging
B Karthik Goud and K Divakar Rao
Adenocarcinoma and Squamous cell carcinoma probed by laser induced fluorescence
Sanoop Pavithran M, Ajaya Kumar Barik, Arun Chawla, Muralidhar V Pai, Rekha Upadhya, Jijo Lukose, Santhosh Chidangil
LIBS: Potential and possibilities for advanced biophotonics applications
Unnikrishnan V K
Appreciation Note for Prof V B Kartha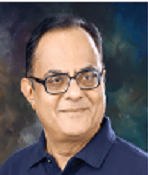 I am happy to pen down my appreciation on the occasion of the Special Issue of Asian Journal of Physics in honor of Prof V B Kartha. When I joined Bhabha Atomic Research Centre, Bombay in 1972 , Prof Kartha was already a very well recognized scientist in the Spectroscopy Division .He contributed significantly to many programs of the Department of Atomic Energy such as development of many spectroscopic techniques for critical applications in laser isotope enrichment. environmental monitoring and ultra-trace analysis.His contributions to the development of beam lines at synchrotron source INDUS-1 at RRCAT, Indore will always be remembered. Later on , he moved to MAHE and established a world class group in Biomedical applications of Spectroscopy. His contributions to the advancement of science and technology in our country will always be a source of inspiration to young scientists .On this occasion, it is my privilege and honor to offer my respects and best wishes to Prof Kartha.
Ajay Sood
Tue, 13 Apr 2021 18:18:06
| | |
| --- | --- |
| Asian Journal of Physics | Vol. 30, No 3 (2021) 413-426 |
Raman spectroscopy in the bio-medical field: Practical guidelines from calibration to data processing for an unbiased interpretation of biospectroscopic information
V Untereiner1,2#, O Piot1,2#, F Alsamad1, N Mainreck1, C Gobinet1 and, G D Sockalingum1*
1Université de Reims Champagne-Ardenne, BioSpecT EA 7506, UFR de Pharmacie, 51097 Reims, France
2Université de Reims Champagne-Ardenne, PICT, 51097 Reims, France
Dedicated to Professor Prof V B Kartha,FNA
---
Raman spectroscopy provides fingerprint-type information on the composition and structural conformation of specific molecular species. Its multiple characteristics, including a high sensitivity to changes at the molecular level, its ability to provide a reagent-, label- and waste-free analysis in a non-invasive way makes it an interesting tool for biomedical investigations. In this short review, we approach via our viewpoints some practical guidelines for implementing Raman spectroscopy of complex biological specimens. These include instrument calibration, excitation and substrate options as well as Raman data pre-processing. The underlying goal is to access a balanced interpretation of Raman spectral information originating from cells and tissues in view of identifying markers that could help to understand cellular processes or that could be useful for diagnostic purposes. Examples of Raman applications are illustrated by studies on cell typing/phenotyping, differentiation between normal and cancer cells, monitoring cell/drug interactions and tissue imaging for identifying tumor heterogeneities. © Anita Publications. All rights reserved.
Keywords: Raman spectroscopy, Instrument calibration, Bio-medical, biomolecular composition, Transferability.
| | |
| --- | --- |
| Asian Journal of Physics | Vol. 30, No 3 (2021) 427-444 |
Recent progress in tissue enhanced spectroscopy for cancer detection
Valery V Tuchin1,2,3 and Luís M Oliveira4,5
1Research-Educational Institute of Optics and Biophotonics, Saratov State University, Saratov, Russian Federation.
2Interdisciplinary Laboratory of Biophotonics, National Research Tomsk State University, Tomsk, Russian Federation.
3Laboratory of Laser Diagnostics of Technical and Living Systems, Institute of Precision Mechanics and Control of the Russian Academy of Sciences, Saratov, Russian Federation.
4Department of Physics, Polytechnic Institute of Porto – School of Engineering, Porto, Portugal.
5Centre of Innovation in Engineering and Industrial Technology, Polytechnic of Porto – School of Engineering, Porto, Portugal.
Dedicated to Professor Prof V B Kartha, FNA
---
Spectroscopy methods can be used for pathology identification and monitoring, but their applications are limited by light scattering if the disease is located in deeper tissue layers. The first study presented in this paper shows that the simple application of spectroscopy measurements allows colorectal cancer discrimination through the identification of different pigment content in normal and diseased tissues. The other two studies demonstrate that by combining sensitive spectroscopy measurements in a wide spectral range with optical clearing (OC) treatments is also useful for cancer discrimination. In the second study, by using spectral collimated transmittance (Tc) measurements during OC treatments, it was possible to estimate the diffusion coefficient of glucose in normal and pathological colorectal mucosa as: Dglucose=5.8×10-7 cm2/s and Dglucose=4.4×10-7 cm2/s, respectively. An additional result of this study shows that the mobile water content is about 5% higher in pathological mucosa. In the third study, by analyzing the OC efficiency in the deep UV range, it was possible to obtain different protein dissociation rates in normal (27.4) and pathological (79.1) mucosa tissues at 93%-glycerol treatment. Such methods can be applied to study other types of cancer or other diseases, and their conversion into noninvasive procedures, based on diffuse reflectance spectroscopy, is to be expected. © Anita Publications. All rights reserved.
Keywords: Enhanced Tissue Spectroscopy, Colorectal Cancer, Tissue Optical Clearing, Optical Clearing Mechanisms, Optical Clearing Agents.
| | |
| --- | --- |
| Asian Journal of Physics | Vol. 30, No 3 (2021) 521-536 |
DFT Study on tautomerism of cytosine and its 5-haloderivatives: A Review*
M Alcolea Palafox1, W Kiefer2, Kaushal Rani3,7, B Lal4, J K Vats5, S P Singh6, and V K Rastogi7
1Departamento de Quımica Fısica (Espectroscopia), Facultad de Ciencias Quımicas, Universidad Complutense, Madrid 28040, Spain.
2Institut für Physikalische Chemie, Universität Würzburg, Am Hubland, D-97074 Würzburg, Germany
3Department of Physics, Meerut College, Meerut-250 005, India
4Department of Physics, Swami Shradhanand College, (University of Delhi), Delhi-110 036, India
5Department of Physics, J P University, Chapra- 841 301, India
6Department of Physics, Dr B R Ambedkar Govt. Degree College, Mainpuri-205 001, India
7Indian Spectroscopy Society, KC-68/1, Old Kavinagar, Ghaziabad-201 002, India
Dedicated to Professor Prof V B Kartha, FNA
---
This review shows a short compendium of the structures of cytosine and its tautomeric forms and the effect of hydration on their geometries. The homo- and hetero-dimer forms were also included, with special attention to the guanine-cytosine pair. The tautomerism on monosubstituted 5-haloderivatives of cytosine was also studied. The importance and main applications of these molecules are also briefly indicated, together with their geometries. © Anita Publications. All rights reserved.
Keywords: Cytosine, 5-chlorocytosine, 5-bromocytosine, 5-fluorocytosine, Tautomerism, Molecular structure.